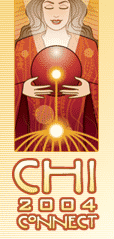 Connect at CHI2004
CONNECTing and interacting with technology has become an integral part of our world -- yet not all technologies are usable. CHI2004 presents an opportunity for you to explore and exchange ideas with many of the premier designers and researchers of interactive technologies. This year's conference offers 31 full and half-day tutorials focused on ways to improve interaction. This year's tutorials include:

Consult the Tutorial Schedule for the complete list of offerings.
The CHI2004 technical program focuses on Ambient Intelligence, Games, Mobile Communications, Robotics & Transport and European HCI Research. Keynote presentations are given by Jun Rekimoto of Sony and Tim Brown of IDEO, individuals whose impact can be seen, felt and heard in the products around you. Connect, engage, and debate with the authors and presenters at dynamic panels, demonstrations, paper sessions and more.
See presentation and schedule details at the CHI2004 Technical Program. You can also explore the influence of human-computer interaction on industrial design by participating in the CHI2004/ICSID Forum.
Participation in CHI2004 is open to all with an interest in Human-Computer Interaction. Join more than 2000 professionals from over 35 countries at CHI2004 for the premier worldwide forum for the exchange of information on all aspects of how people interact with computers.
CHI2004 is sponsored by ACM's Special Interest Group on Computer-Human Interaction (ACM SIGCHI). In addition to ACM, various organizations sponsor CHI2004 . Champion Sponsors include: Google, Microsoft, OSDN Slashdot, SAP, Unisys, and Yahoo! Inc. Contributing Sponsors include: Intel, Nokia, Sun Microsystems and eLearn Magazine.
The annual CHI conference attracts a lot of attention from the media. A number of articles about the conference and the work presented there are written each year. Some interesting articles include:


USA Today:Conference tackles ease-of-use issues
Anthropologists adapt technology to world's cultures
Forbes: Banks that Chat and Other Irrelevancies (available for fee)

Scientific American: Taking Computers to Task (available for fee)

San Jose Mercury News: Designers Adapting Computers to Human Behavior (available for fee)
On 24-29 April 2004 researchers, practitioners, educators, and students from around the world will meet in Austria at the CHI2004 Conference.
CONNECT and Create the Future - Attend CHI2004