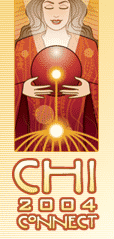 Interaction Technologies Connect and Enhance Lives
CHI2004, 24-29 April, Vienna
New York, NY/Vienna, Austria (24 March 2004) -- Interaction technologies have the potential to enhance people's lives, work and play. This year's conference on computer-human interaction offers over 200 presentations that examine connections made through applications of computing technology in various domains, including:
- Maria Klawe, Dean of Engineering at Princeton and President of ACM reports on the Aphasia Project with colleagues from University of British Columbia. "This project is unusual in many respects: how it was founded (with the late Anita Borg), its highly interdisciplinary team, the challenges of doing participatory design with people suffering from language deficits, and the possibilities of significantly improving the quality of life for these individuals," notes Dean Klawe.
- Sara Czaja, of Miami University leads a panel discussion on the application of technology to enhance the lives of older people. "We'll demonstrate how technology can be used to benefit the productivity, well-being and independence of older adults. Given the aging of the population and the rapid developments in and deployment of technology in most settings, the issue of aging and technology is critically important," notes Professor Czaja.
"One of the most important reasons people attend CHI is to learn something new, and CHI2004 will exceed attendees' expectations for the important perspectives to consider when designing future technologies," note Elizabeth Dykstra-Erickson (Kinoma, Inc.) and Manfred Tscheligi (CURE-AT), CHI2004 Co-Chairs.
The conference features a six-day program full of presentations, tutorials, vendor exhibits and networking opportunities. This year's technical program focuses on Ambient Intelligence, Games, Mobile Communications, Robotics & Transport and European HCI Research. Keynote presentations are given by Jun Rekimoto of Sony and Tim Brown of IDEO, individuals whose impact can be seen, felt and heard in the products around you. Approximately 2000 professionals from over 35 countries will connect and examine the future of human-computer interaction at the Austria Center Vienna.
CHI conferences are sponsored by the Association for Computing Machinery's Special Interest Group on Computer-Human Interaction (ACM SIGCHI). In addition to ACM, various organizations in the technology industry support the CHI conference. The CHI2004 Champion sponsors include: Google, Microsoft, OSDN Slashdot, SAP, Unisys, and Yahoo! Inc.
For more information, contact the CHI2004 Conference Office: +1 312 321-4096, send e-mail to CHI2004-office@acm.org or visit http://www.chi2004.org
Editors contact: C.L.Klyver at chi2004-press@acm.org